Amazon Stock Offers a Buying Opportunity After the Dip, Analysts Say
on October 8th, 2020
at 6:30 am
Amazon stock price has been struggling to generate a sustainable upside momentum over the last month only due to broader market volatility. The shares of the world's largest e-commerce company fell sharply from an all-time high of $3500 to around $3200 at present.
Market analysts are seeing the dip in Amazon stock price as a buying opportunity for long-term investors. The unprecedented growth in demand is among the biggest catalysts for Amazon stock price in the market pundit's view.


Benchmark analyst Daniel Kurnos sees unabated, unprecedented e-commerce demand. The firm has set a price target of $3800 for Amazon, up from the previous target of $3600.
Kurnos said, "The October Prime Day event, postponed from its normal summer schedule, can spread out "some early holiday demand to avoid shipping shortages."
The survey report from Bank of America shows that Amazon is dominating online shopping, with 60% of respondents say they search Amazon first when looking to shop online. This is up from 58% in the last year and up significantly from Google's 26% search. eBay stands at only 3%.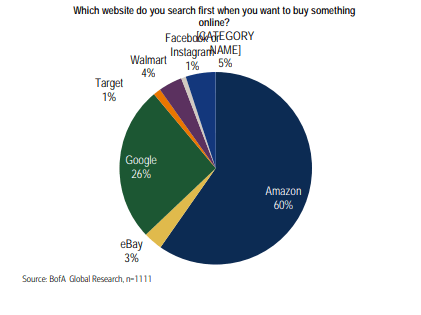 Moreover, analysts are pointing to the robust growth in ad revenue. Although the company does not primarily generate revenue from ad services, this additional source of revenue is contributing substantially to overall revenues.
"Amazon's other reporting segment primarily includes sales of ad services, as well as sales related to the other services offerings. In the Q2 report in July, Other sales totaled $4.2B, up 41% Y/Y," Pivotal Research analyst Michael Levine said. The firm has provided a $4500 price target to Amazon stock.
Some market pundits are anticipating its ad revenue to hit $13 billion levels this year, with expectations for high double-digit growth in the coming years. Amazon stock price soared 73% since the beginning of this year, extending twelve months gains to 83%. Amazon does not offer any dividends to investors.