American Airlines Stock Offers a Long-term Buying Opportunity
on September 7th, 2020
at 4:43 am
American Airlines stock price has been under pressure as coronavirus spread has devastated the airline industry over the past couple of months. Shares of the fourth largest US passenger carrier lost half of the value so far this year.
The market analysts believe the dip in share price is presenting an attractive buying opportunity for long-term investors.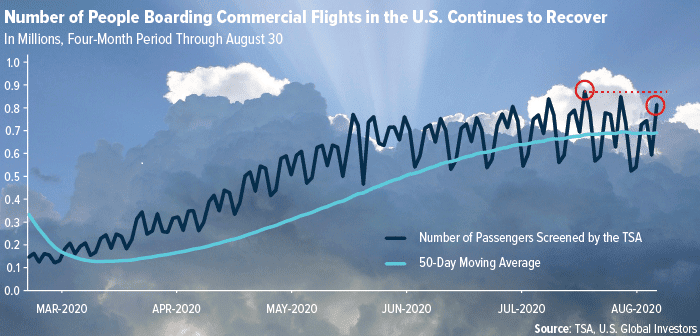 On the positive side, the airline companies have started experiencing improved demand for air traveling over the past month, thanks to easing social distancing policies. The passenger carriers have also been employing strict health care measures to avoid the virus spread.
U.S. Global Investors report shows that the airline industry is recovering at a robust pace. TSA claims that the number of passengers bounced to 807K last Sunday.
"We believe a return to the post-pandemic high of 863,000 could spur a second big wave of airline equity buying, making now a potentially opportune time to consider getting exposure," the report shows.
President Donald Trump hinted that more relief is coming for the airline industry because passenger carriers plan to massively slash their workforce to reduce losses. American Airlines announced to cut its 19K workforce in October when the terms tied to the federal aid it received expire.
"We'll be helping the airlines, you have to help the airlines, it's a tough business always is. Airlines are a tough business in good times and we are about ready to get back to good times" Donald Trump said.


American Airlines stock is currently trading around $13, down sharply from the 52-week high of $31 a share that it had hit early this year. The stock could remain under pressure in the short-term according to market analysts. This because of the high debt level and strong cash burn rate.
"Relief from a payroll support extension appears priced into American's shares, but that would not address its capital-structure challenge," warns the German firm. The firm has provided $13 price target for American Airlines stock.