European Stock Markets Extends Decline on Fading Optimism over Economy
on July 8th, 2020
at 6:19 am
European stock markets fell from one month high on Tuesday and the shares extended the decline in Wednesday trade, with all the key European stock futures are in the red.
The Stoxx Europe 600 index lost more than 1% of the value on Tuesday, but the index is still up 33% from March lows. The rest of the major regional indices including the German DAX, French CAC, and U.K. FTSE 100 are extending the declining trend in Wednesday trade.
The European currency also fell on Tuesday when compared to British Pound and the US dollar. EUR USD pair declined by 0.23%. The euro also has underperformed against GBP as EUR/GBP trades at the bottom of the G6 leaderboard on Tuesday.
The downward movement in both stock and currency markets is supported by the bleak economic forecast for the second half of the year.
The commission predicted a deep recession for the entire European Union due to the impact of lockdowns and slowing business growth. The bleak forecast is despite the broad policy response at national and EU levels. The commission report says that all the member countries need to make a swift agreement on the Next Generation recovery plan and EU budget to help the economy.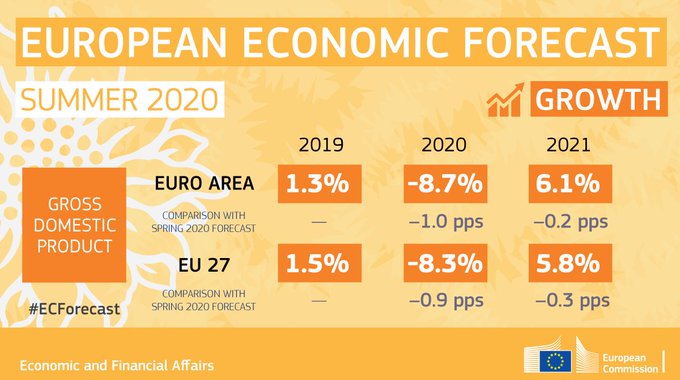 The EU Commission expects the eurozone economy to contract by 8.7% this year and increase by 6.1% in the next year.
On the other hand, the market analysts claim that the market will see a bumpy ride ahead of second-quarter earnings.
"While the stock market has decoupled from the economy in recent months, there is the potential that earnings season could reunite them, albeit temporarily, and make stocks more sensitive to rising infection rates as well as a possible lack of fiscal stimulus," said Kristina Hooper, chief global market strategist at Invesco.