European Stocks Plunge Despite ECB's Higher Economic Forecasts
on September 11th, 2020
at 5:22 am
European stocks are in doldrums as the stocks are swinging between gains and losses. The shares are struggling to sustain the upside momentum as the markets are significantly responsive to economic reports.
The shares of the majority of European companies closed lower on Thursday despite the fact that the European Central Bank has lowered its economic contraction numbers for the full year. The bank now expects Eurozone GDP to shrink by 8% compared to the previous forecast for 8.7% contraction. The Banks have also held interest rates steady.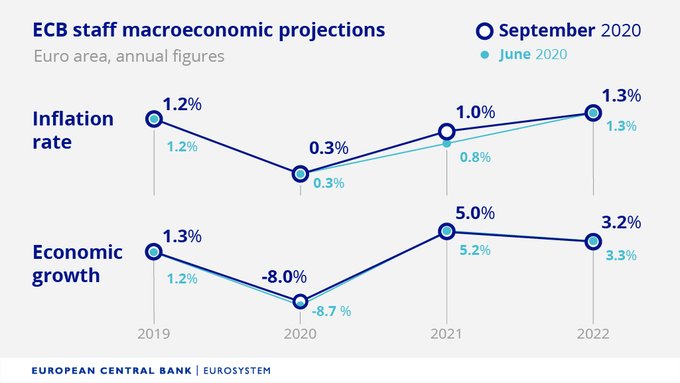 The bank expects the economic recovery in the next year, with a forecast of 5% growth in 2021 and a more than 3% increase in fiscal 2022. The inflation rate is likely to stand around 0.3% this year.
ECB President Christine Lagarde said the ECB's governing council has discussed the strength in the euro value but said they don't want to interfere in the exchange rate.
"The ECB mildly improved their economic outlook, monetary policy remains exceptionally loose with no foreseeable change likely and government action over recent months on the fiscal policy provides 'important funding support'.  There is a firming coherence in eurozone economic policymaking, as highlighted again by the positive reaction of the euro to the comments made," said Chris Bailey, European strategy at Raymond James.
The lower than expected US job data has also impacted investor's sentiments. The Labor Department reported that first-time filings reached almost 884,000 for unemployment insurance. This is up from analysts' expectations for filings of 850,000.
Travel and leisure stock were among the winners while mining stocks plunged sharply. Crude oil prices also remained under pressure and gold fell almost 0.5%.
What Does it Mean for Investors?
European stock market uncertainty is likely to decline after the ECB press conference.
US stock futures are in green after reporting losses on Thursday.
 Euro soared after positive economic data.