Salesforce Stock Jump to a New All-time High on Bright Outlook
on August 26th, 2020
at 4:52 am
Salesforce stock price surged more than 13% in after-hours market trading amid stronger than expected second-quarter results. Its revenue and earnings topped analysts' consensus estimate by $200 million and $2.86 per share, respectively.
Its second-quarter revenue of $5.1 billion grew 29% year over year, thanks to sharp revenue growth from subscription and professional revenue segment. Subscription and support revenues came in at $4.84 billion in the second quarter, up 29% year-over-year. Professional services and other revenues jumped 23% year over year to $0.31 billion.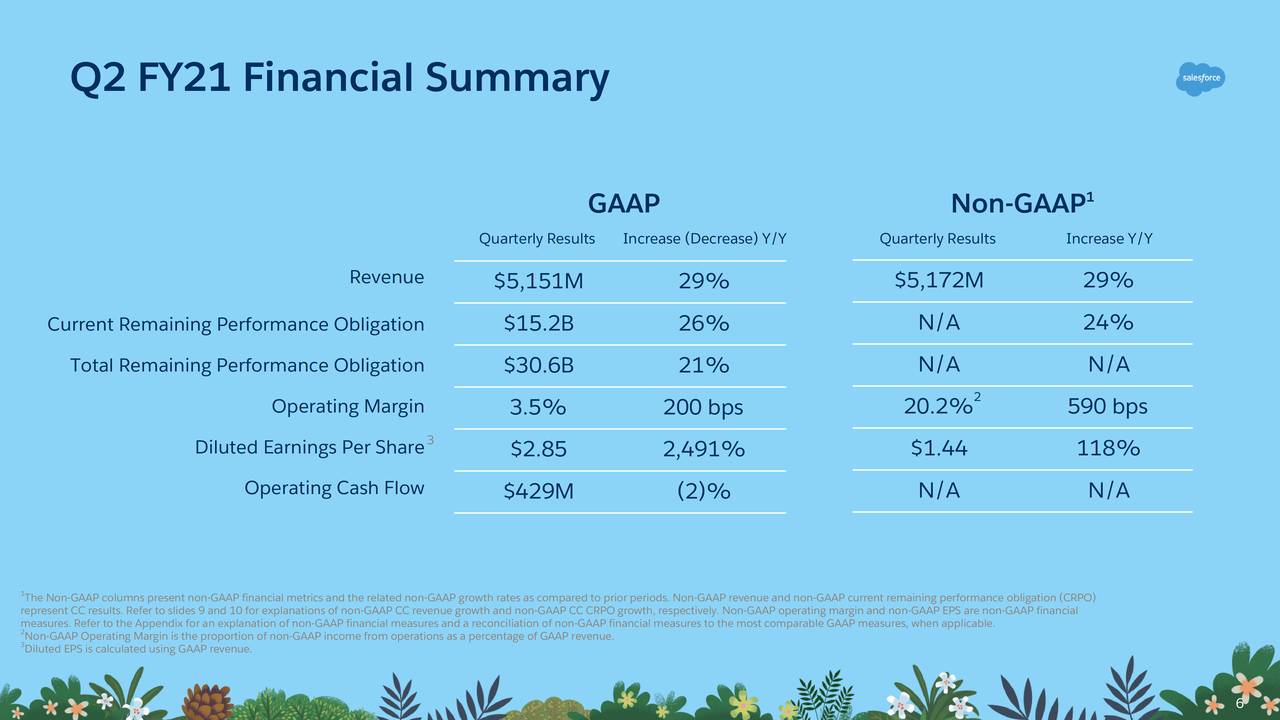 "It's humbling to have had one of the best quarters in Salesforce's history against the backdrop of multiple crises seriously affecting our communities around the world," said Marc Benioff, Chair and CEO of Salesforce.
In addition to strong revenue growth, the company's earnings performance also remained strong. Its second-quarter earnings per share came in at $2.85.


Its share price soared to a new record level after the earnings announcement. Salesforce stock price grew 28% year to date and the shares are up 37% in the last twelve months. The market analysts are seeing more gains ahead for Salesforce stock price.
The company expects third-quarter revenue to stand around $5.24-5.25 billion, representing a year over year growth of 16%. The earnings per share are likely to hit $0.73-0.74. The analysts' consensus estimate for revenue and earnings is at $5B and $0.77, respectively.
"Salesforce was founded on our belief in stakeholder capitalism and our core values of trust, customer success, innovation, and equality. Our success in the quarter brought all of this together with the power of our Customer 360 platform, the resilience of our business model, putting our customers first and doing our part to take care of all of our stakeholders," CEO said.
It anticipates full-year revenue in the range of $20.7-20.8 billion compared to the consensus estimate for $20 billion. The company expects earnings per share in the range of $3.72-3.74, up from the consensus estimate for $2.93-2.95.