Second Quarter Beat Sent Tesla Shares Higher
Published
on July 23rd, 2020
at 5:14 am
Tesla stock price soared sharply following stronger than expected results for the second quarter and a robust outlook for the rest of the year. While the electric vehicle market hit harder by pandemic, Tesla still managed to generate $6.04bn in revenues, topping analysts' consensus estimate by $640M.
The largest electric vehicle company has also generated a gross margin of 25.4% for the second quarter compared to the consensus for 24.1% and up from past year margin of 18%. Its second-quarter net income came in around $104M up almost 505% from the previous quarter. This marks the fourth quarter in a row of profitability.
"We believe the progress we made in the first half of this year has positioned us for a successful second half of 2020. The production output of our existing facilities continues to improve to meet demand, and we are adding more capacity. Later this year, we will be building three factories on three continents simultaneously," the company said.
Although its deliveries declined sharply from the previous quarter, the company still plans to achieve its 2020 targets. It delivered 4716 vehicles during the quarter, down 23% sequentially. The second-quarter production also dropped sharply amid pandemic and lockdowns. It has produced 82,272 vehicles during the quarter.
They plan to deliver almost 500 vehicles this year, with an indication that Semi deliveries will start in 2021. Tesla announced to begin building three new factories on three continents during the second of the year.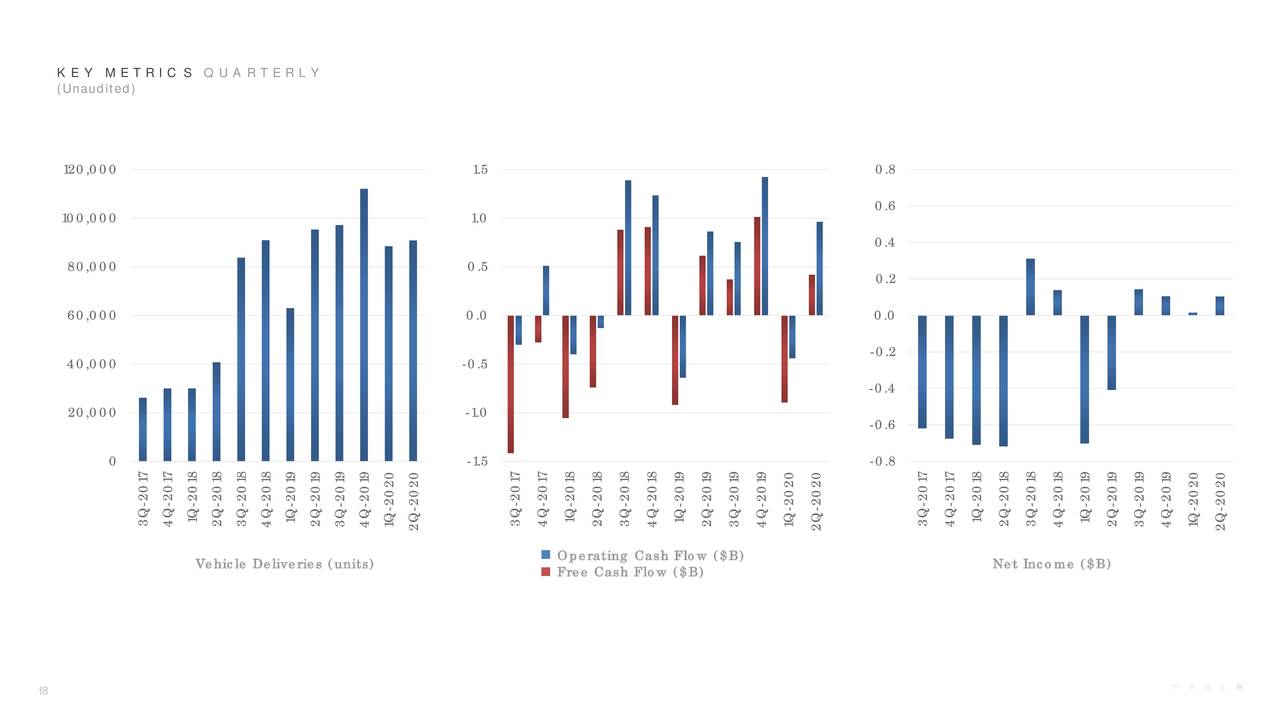 Its cash flow generation has also been improving over the past couple of quarters. Cash generation is key to its expansion strategies. The EV automaker has generated a free cash flow of $418M in the second quarter.
The company forecasts a double-digit free cash flow growth during the second quarter despite its aggressive expansion strategies. Tesla stock is currently trading above $1600, down slightly from 52-weeks high of $1700 a share.